At Hillcrest Animal Hospital in Bartlett, we provide comprehensive preventive veterinary health care services, customized for the needs of each pet.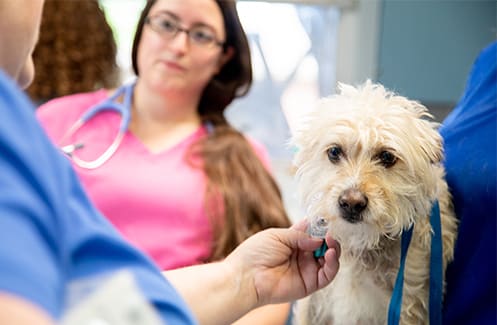 What is preventive health care for pets?
Preventive health care encompasses a range of veterinary treatments and procedures designed to prevent the development of disease and injury in pets.
At Hillcrest Animal Hospital, we consider consistent preventive care to be the key to life-long health for the animals we treat.
Rather than waiting until an animal is sick or injured, we work with pet owners and pets to identify and prevent potential or developing health issues before they become serious.
At Hillcrest Animal Hospital, we believe that preventive care is a must if you want to give your pet the best chances of staying healthy.
Our preventive health care plans include the following items for cats and dogs:
Annual Checkups & Nutritional Consulting
Annual checkups allow us to identify and treat any developing health issues before they become serious, and monitor your pet's diet.
Vaccines/Immunizations
Vaccinations help prevent diseases such as rabies, distemper, parvovirus, hepatitis, and bordetella, among others.
Wellness Bloodwork
Wellness blood tests are designed to detect early or hidden disease in pets that appear to be healthy.
Heartworm Prevention
Heartworm preventives help prevent heartworms, and some protect pets from intestinal parasites as well.
Microchipping
Microchipping your pet means that they will be more likely to be returned to you should they get lost.