At Hillcrest Animal Hospital, we provide the very highest level of veterinary dental and oral care in the Bartlett and greater Memphis area, and throughout Tennessee.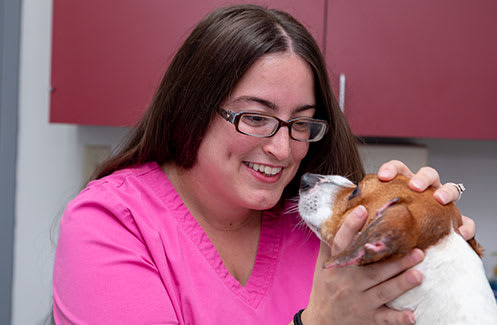 What is dentistry for pets?
Veterinary dentistry covers the cleaning, adjustment, filling, extraction, or repair of your pets' teeth, as well as oral health care. 
Why is regular dental care important for cats and dogs?
Dental problems in cats or dogs can be related to a variety of other health problems. Bacteria from the mouth can travel to other parts of your pet's system, and can develop into problems. Without regular cleaning, pets are also susceptible to periodontal (gum) disease. 
Regular (annual) dental cleaning will allow the vet to identify early signs of a problem and prevent it from becoming serious.
Your pet's teeth are as important as your teeth. They are impacted by all the same types of conditions. Regular dental care helps prevent your pet's teeth and gums from decaying and leading to more substantial problems like gum disease or tooth loss.
Symptoms of Dental Problems
Common symptoms indicating dental problems include: 
Bad breath
Loose or broken teeth
Extra teeth or retained baby teeth
Teeth with discoloration or tartar buildup
Abnormal chewing, drooling, or dropping food from the mouth
Reduced appetite or refusal to eat
Pain or swelling in or around the mouth
Bleeding from the mouth
If your dog or cat is experiencing any of these symptoms, it's best to bring him or her in to see one of our vets.
Dental Surgery & Anesthesia
Hillcrest Animal Hospital offers a progressive dentistry and oral surgery center that provides compassionate oral care for the veterinary patient.
When you go to the dentist, you know that what's being done is meant to help you and keep your mouth healthy. Your dentist uses techniques to minimize pain and discomfort and can ask you how you are feeling, so you accept the procedures and do your best to keep still.
But, your pet does not understand any of this – and he or she reacts by moving, trying to escape, or even biting.
The use of anesthesia makes it possible to perform dental procedures with less stress and pain for your pet. Additionally, if digital radiographs (x-rays) are needed, your pet must be very still in order to get good images. Sedation or anesthesia helps with this.
Preventative Dental Care
Your pet should visit the dentist every year for an oral health checkup.
The process begins with an examination of your pet's mouth by the veterinarian. X-rays may be required to evaluate the health of the jaw and the tooth roots.
Since most dental disease in animals occurs below the gumline, where you can't see it, a thorough dental cleaning and evaluation must be performed under anesthesia.
The dental cleaning will consist of scaling (to remove dental plaque and tartar) and polishing, much like the process of your own dental cleanings.
FAQs About Dentistry & Dental Surgery for Pets