Hillcrest Animal Hospital provides a comprehensive range of surgical and soft tissue procedures, including ocular procedures, orthopedics, c-sections, and emergency surgery during office hours.
Soft Tissue & Surgical Procedures
Soft tissue and surgical procedures are performed in cases where less invasive treatments and therapies have proven insufficient to treat the health problems that our patients experiencing.
Our experienced, compassionate veterinarians will strive to make your pet's surgical procedure as comfortable and stress free as possible for your pet, and for you, too.
We'll talk you through each step of the process, including preparation and proper post-operative care, and ensure that you have all the details you need to make the right choice for your pet.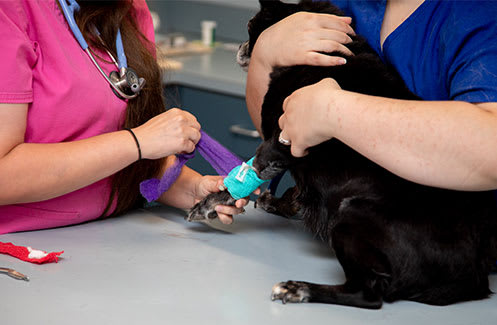 With our Hillcrest team, your pet is in good hands for any soft tissue and surgical procedures that are recommended for his or her health.
Soft Tissue Procedures
We offer soft tissue surgical treatment options for dogs and cats with gastrointestinal, respiratory, and cardiothoracic conditions, as well as ear, nose and throat conditions. Our veterinarians have substantial experience in emergency and routine procedures to treat a wide range of congenital defects or acquired conditions. 
Ocular Procedures
Our veterinarians offer vision care and the diagnosis and treatment of eye and eyelid disorders for cats, dogs, and small animals. Some of the most common ocular procedures we perform include cataract surgery, entropion surgery, ectropion surgery, eyelid tumor removal, cherry eye surgery, and exenteration of the orbit.
Orthopedics
Orthopedic surgery for pets consists of surgical procedures that address the joints and skeletal system, as well as the associated soft tissues, including muscles, cartilage, tendons, and ligaments. Our advanced imaging and diagnostic tools help us provide accurate and effective orthopedic diagnosis.
C-Sections
A C-section (caesarean section), is major surgery during which puppies or kittens are removed from the uterus of a dog or cat. We perform c-sections in emergency cases where the animal has difficulty giving birth naturally. Most animals recover quickly and without complication from this procedure.