Laser therapy is a non-invasive and drug-free option for treating a variety of painful and inflammatory conditions your pet may experience.
How does cold laser therapy work?
Lasers send a concentrated beam of light through the skin's surface to release natural pain killers, produce energy needed for proper cell function, activate cells that clean up inflammation damage, suppress processes that cause damage, activate tissue repair and cell growth, and increase circulation.
Whether your pet is recovering from trauma or injury, healing from wounds, or aging, he or she can benefit from cold laser treatment.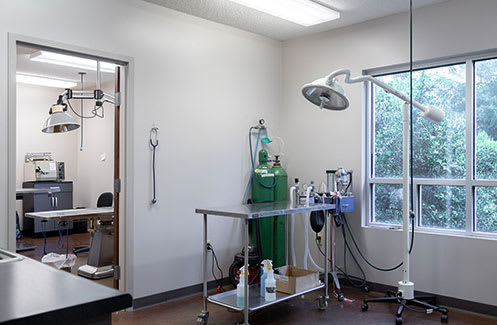 What can cold laser therapy treat?
Cold laser therapy can help with the following procedures, diseases and conditions:
Strains & Sprains
Osteoarthritis
Inflammation
Inflammatory Bowel Disease
Lick Granuloma
Wounds
Fractures
Degenerative Joint Disease
Dental Procedures
Post-Surgical Recovery
What are the benefits of cold laser therapy?
The primary benefits of cold laser therapy treatment are that it is non-invasive, quick to administer, and does not require surgery or drugs.
Clients are often moved by the effectiveness of the treatment, as they see their beloved pet's pain soothed away without the additional discomforts that may come with other treatments.