Bartlett vet Dr. Kathryn Wright Mayo has a deep connection with animals of all shapes and sizes. Dr. Mayo's passion is working with pet owners to help keep their 'fur babies' happy and healthy.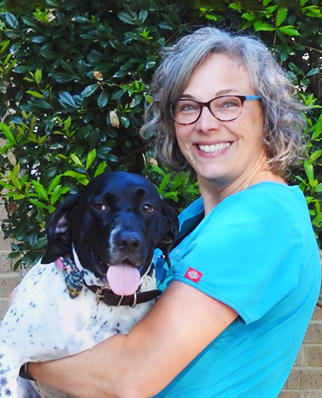 Kathryn Wright Mayo,
DVM


Dr. Mayo's Pets
Lizzy, German Shorthaired Pointer
Chubby, Holland Lop Rabbit
Growing up in a family of medical doctors with various specialties, Kathryn always knew that medicine was in her blood, but found that animals were more "her people". She loves not only keeping fur babies healthy, but also helping the people who love them in the process.
Kathryn, a native of the Tennessee/Arkansas delta, performed her undergraduate work at Mississippi State University and stayed to complete her veterinary education as well.
Originally starting a rotating small animal internship at Louisiana State University's College of Veterinary Medicine, she returned home when her mother was diagnosed with breast cancer and joined the staff at Hillcrest Animal Hospital, where she has been ever since.
When out of the office, Kathryn enjoys spending time with her family, reading, and serving in the youth department of her church.