At Hillcrest Animal Hospital, we offer Platelet Rich Plasma (PRP) treatment as a method for treating osteoarthritis and other bone and tissue injuries in dogs and cats.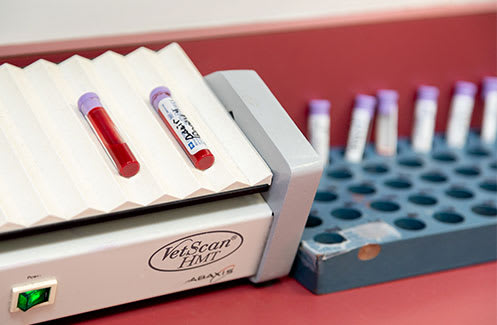 What is Platelet Rich Plasma (PRP)?
Plasma is the liquid component of blood, in which the other components (like blood cells and platelets) are suspended. Platelets are tiny fragments of cells that contribute to the blood clotting process and promote healing.
Platelet-rich plasma (PRP) is processed in such a way that the plasma has a higher-than-usual concentration of platelets.
As a result, the plasma contains growth factors and proteins that help accelerate the healing of injured tendons and ligaments, and reduce arthritis pain by promoting the regeneration of bone and cartilage.
Platelet-rich plasma treatment is is an option that Hillcrest Animal Hospital is pleased to offer, particularly for conditions such as osteoarthritis in dogs.
What can be treated with PRP?
In small animals, PRP can be used in the treatment of diseases and injuries such as Achilles tendon ruptures, shoulder injuries, partial cruciate tears, iliopsoas injuries, musculo tendinopathies, collateral ligament ruptures and hyperextension injuries.
PRP injections can also help improve mobility, decrease pain and improve articular cartilage in animals suffering from degenerative joint diseases like osteoarthritis.
The PRP Treatment Process
Platelet-rich plasma is prepared by drawing blood from the patient. It is then processed via either filtration or centrifuge so that it contains all the necessary elements.
The PRP treatment process usually takes 30 to 40 minutes. A needle is inserted in the affected joint, and the therapy is administered until resistance in the joint is felt. For many patients, it is a one-time treatment, but some may need additional PRP treatments. After treatment, it may be necessary to restrict movement in your pet for a couple of days.