Veterinarian Dr. Beth Goforth is dedicated to caring for the wellbeing of pets from across the Bartlett and greater Memphis areas of west Tennessee.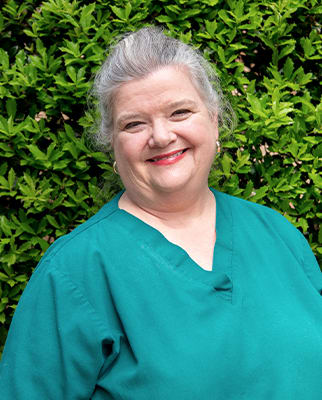 Beth Goforth,
DVM


Dr. Goforth's Pets
Mr. T, Orange Tabby
Butch, Rotte Cross
Noodles, Miniature Poodle
Calli, Mixed Breed
Jethro Bodine, Mixed Breed
I get out of bed every morning because I look forward to the blessing of being involved in the lives and health of so many varied animals and their fascinating and wonderful owners.
After graduating from The University of the South with a BA in mathematics I realized veterinary medicine would be the perfect venue for combining my passion for science, animals, and people. I next completed two years of veterinary prerequisites at the University of Tennessee in Knoxville and went on to graduate from veterinary school in 1980 at UT Knoxville. After vet school I spent 3 years in Saskatoon, Saskatchewan completing a 3 year internship and residency in small animal internal medicine.
Marriage and a young son brought me back to Memphis to raise my family on our family farm and to be near my parents and extended family . Here I have happily been in small anima l mixed practice since 1984.
I owned a small animal practice in Germantown for 18 years. A desire to spend more time with my family and grandchildren and to concentrate on practicing medicine without the cares of running a small business led me to close my solo practice in 2010. Since that time I have worked as an associate veterinarian in multi doctor practices.
My current interests include my grandchildren, caring for my family property and home, tutoring elementary school students, reading, gardening, and a whole host of activities with my church.